Touch Trigger Probes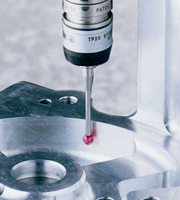 Renishaw provides a comprehensive range of systems to meet the application needs and budget constraints of all users, from simple feature checks on manually operated CMMs, to complex part measurement on high-speed computer controlled machines.
About touch-trigger probes
Ideal for inspection of 3 dimensional prismatic parts and known geometries.
Suitable for a diverse range of applications, materials and surfaces
Kinematic resistive probes
Larger kinematic probes are extremely robust and are suited to manual CMMs
Smaller kinematic can access small features
Renishaw electronic or 'strain-gauge' probes offer extended life and higher accuracy than kinematic probes
Recommended touch-trigger probes
Legacy touch-trigger probes
Compact kinematic touch probe, now superseded by TP20 (which features repeatable stylus module changing).

The M8 threaded TP2-5 way is 13 mm in diameter. It features adjustable stylus force which enables the probe to carry a wide range of M2 styli, making it suitable for manual and DCC CMMs.

45 mm diameter shank mounted legacy probe that is ideal for manual CMMs due to its robust design and large overtravel range.

The TP1S/TP1SM is a 1 inch diameter, shank mounted probe that is ideal for manual CMMs due to its robust design and large overtravel range. The probe signal is carried to the CMM via an external cable, and the probe has an adjustable stylus force to help optimise its performance. It has an M3 stylus mount and can carry a wide range of styli.

The TP1S system comprises the TP1S probe and a suitable interface; PI 4-2, PI 7-2, PI 200 or UCC.

The TP1SM is similar to TP1S, but with the cable connector rotated 90°.

Robust kinematic legacy probes with M8 and Autojoint mounting options.

TP6 system configuration

The TP6 and TP6A probes have different probe mount options (M8 thread and Autojoint respectively). Both probes are kinematic touch-trigger probes and have manually adjustable trigger force for optimum probe performance with different stylus configurations.

They can carry long styli (M3 range), are 25 mm (1 inch) in diameter, providing substantial overtravel for excellent robustness.