3-Axis Scanning Probes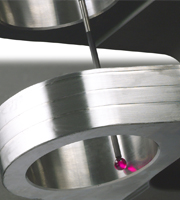 Scanning provides a fast way to capture form and profile data from prismatic or complex components.
While touch-trigger probes gather discrete points on the surface, scanning systems acquire vast quantities of surface data, providing a clearer picture of the form and shape of the workpiece. Scanning is therefore ideal for measurement applications where the form of a feature is a significant element of the overall error budget, or where complex surfaces must be inspected.
Scanning requires a fundamentally different approach to sensor design, machine control and data analysis.
Renishaw scanning probes feature innovative, lightweight passive mechanisms (no motors or locking mechanisms) that exhibit a high natural frequency, making them suitable for high speed scanning. Isolated optical metrology systems measure the deflection of the stylus directly (not via stacked axes within the probe mechanism) for better accuracy and faster dynamic response.
Scanning Probe Systems
About SP25M

The SP25M comprises two sensors in a single housing. Users can switch between a choice of five scanning modules (which can carry M3 styli with lengths from 20 mm to 400 mm) and an adaptor module that is compatible with Renishaw's TP20 range of probe modules. This capability enables scanning and touch-trigger probing in a single probe system.

The SP25M's compact size and autojoint mounting makes it compatible with the PH10M/MQ and PH6M probe heads. It can also be mounted on a multiwired extension bar. Together, these combinations permit excellent reach and access to part features.

For details of the technology in SP25M, refer to the SP25M Technical Paper.

Download SP25M Technical Paper

Renishaw's SP600 family of analogue scanning probes offers high-performance inspection, digitizing and profile scanning capability for a wide range of CMMs. There are three, highly versatile, SP600 scanning probe systems. Each system includes the probe itself, a PC interface card and a stylus module changing rack.

There are three, highly versatile, SP600 scanning probe systems.  Each system includes the probe itself, a PC interface card and a stylus module changing rack.

| | SP600 | SP600M | SP600Q |
| --- | --- | --- | --- |
| | | | |
| Length | 89 mm | 107.5 mm | 98 mm |
| Weight | 172 g | 216 g | 299 g |
| Mounting | Adaptors to suit clutch, shank adaptor or CMM shank | Renishaw autojoint: PH10M, PH10MQ or PH6M | Direct in-quill mount to CMM |

The SP80 and SP80H quill-mounted scanning probes provide class-leading scanning performance, as well as the most flexible use of long styli for maximum productivity.

The SP80 mounts to standard vertical quills and can carry styli up to 800 mm long and 500 g mass, including star configurations. Whereas the SP80H mounts to a horizontal quill and can carry styli up to 500 mm long and 300 g mass, including star configurations.

About SP80 and SP80H

The SP80 and SP80H probes both use the same design concepts. They are a passive scanning probe that uses digital scale and readheads with 20 nm resolution. These provide exceptional scanning performance, even with long styli.

Kinematic stylus changing with SH80 allows for repeatable re-location of the stylus, optimizes stylus arrangements for each feature, and overcomes the need for re-qualification. Fitment of the SH80K allows the probe to be powered on and off without needing to be rehomed on power up.

For more details, refer to the SP80 Technical Paper.